"Alexandra" by Candice/mwfte

A pre-A.I. story about Joe and Alexandra, a young woman who befriends him and pays (at least up to this point) a dire price. (Fragment: Mild het) *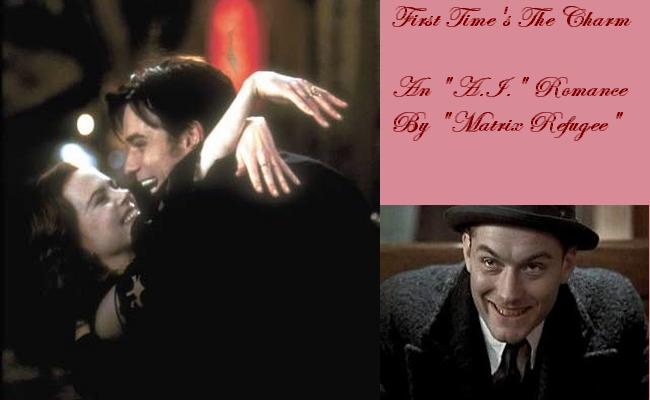 by "Matrix Refugee"
A young reporter's romance with a very special female lover-robot... (Het, violence against a Mecha)
Chains
by Tara Kingsmill
The ties that bind Gigolo Joe and Patricia (Het: Joe/Patricia)
"Jane" by Henry Lake Spaulding
A fragment of a fic describing a typical night for a lover-'bot named Jane (Het)
By "Matrix Refugee"
(Third in the series involving Cecie Martin) A killer is on the prowl in Rouge City, cutting down male lover-Mechas.... Is Joe next? And can Cecie protect him, while wrestling with her own feelings for him? (Violence, one slash scene [OMC/OMC] and het [Joe/OC])
While serving a customer, something happens to Joe that confounds his processors...(Het: Joe/OC) [New Link!]

"Cherry Hill" by Tara Kingsmill
A lonely girl wants Joe to be her first. (Het: Joe/OC) [NEW CHAPTERS COMING SOON]
"Birthday Girl"
by Laurie E. Smith
**
A tale of Joe's early days at "Here Kitty Kitty", the club mentioned in the movie, where the Agency held his trials when he was "made new". SLASH and heterosexual sex! -- IN PROGRESS
A Momentary Lapse of Reason
by "Grace"
Set post-movie. On a cold night, Jeremy, a small-town whore, encounters lover-Mecha on the run. Slash: Joe/OMC.
NEW!!